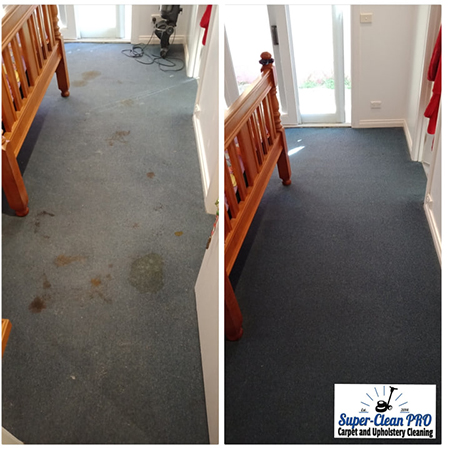 It ain't clean, unless it's SUPER-CLEAN!
Give your home or office a fresh and healthy look…

Carpets are the most popular flooring option among homes and offices, and they not only make the place feel lively but also render a warm welcome kind of feeling for employees or when friends and family come by. Professional carpet cleaning is important to keep the carpets in a new and healthy condition.
The advanced cleaning methods like hot water extraction uses high temperature steam to remove most stains, mites and dirt particles and clean the carpets through industrial strength vacuums. This method is soap free, chemical free, safe for the carpets life span as well as for kids, environment, pets and everyone around. Steam cleaning methods which are used by Super-Clean PRO increase the life of carpets, make them look new and do not harm them. Another prime advantage of opting for professional services is that it lowers the level of allergens in your home or office, creating a fresh and healthy environment.
In this modern and technological era, most people are aware of the environmental impact that some toxic agents contained in cleaning chemicals have. This is why Super-Clean PRO's core cleaning solutions are child and pet friendly, neutral Ph and environmentally friendly. We want a clean and healthy world for our children and do everything we can to do our bit.
Once we have cleaned, sanitized and deodorized your carpet there is absolutely no residue left in the fibers, so our clients can be at peace knowing their carpets will stay cleaner for longer. One of the famous approaches used by Super-Clean PRO is a green cleaning method that is proven effective for every kind of carpet and our environmentally conscience clients. Another benefit of using our professional carpet cleaning service is our quick drying time for all kinds of carpets, making the carpets ready to walk on in no time.
Are you looking for professional and cost effective carpet and upholstery cleaning services? Super Clean PRO is a family owned business and we are highly trained and certified carpet, upholstery and hard surface cleaning specialists with years of experience. We only use the latest technology and hi-powered equipment and have been cleaning both residential and commercial carpet and upholstery for many years. We service Melbourne and the Eastern Suburbs and we are based in Ringwood, Victoria.
Feel free to get in touch with us and Experience a Better Clean!