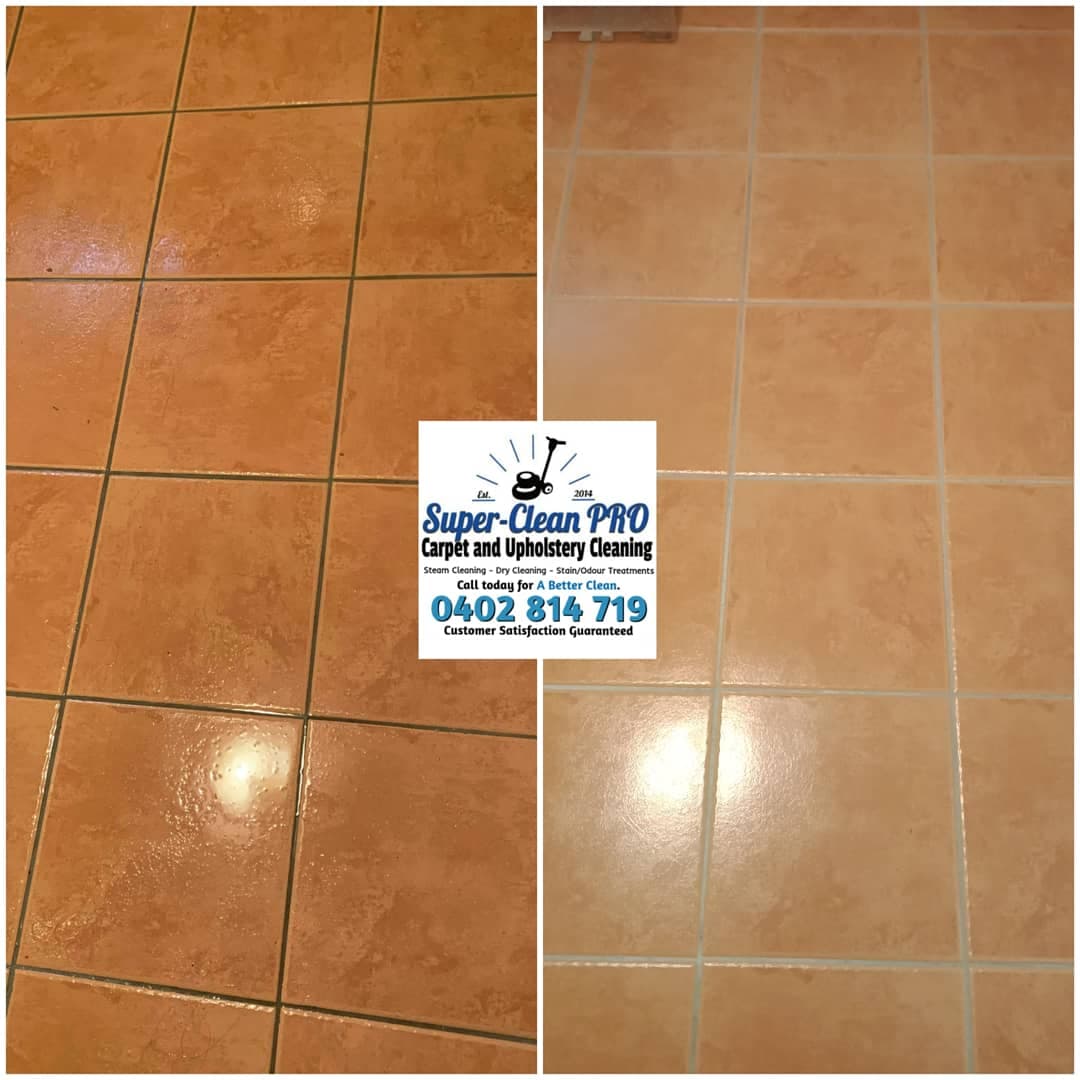 Tile and Grout Cleaning
Tile and Grout Cleaning Ringwood
Servicing Melbourne, Eastern Suburbs, Yarra Valley and Beyond…
Super-Clean PRO specializes in grout and tile cleaning in Ringwood, Mitcham and Vermont, restoring your dull and dirty floors to their original condition through our high-quality services. Impressions are everything and giving your flooring and upholstery a clean and refreshed look will make all the difference.
Over time, tile surfaces and floors lose their luster and shine and tend to look unsightly. Since grout is porous and absorbs all the debris and dirt on it including soap scum, mineral deposits, grime, and body fats, all that eventually make the surface quite a challenge to clean.
Unfortunately, in such cases, mopping and scrubbing do not usually yield the results required for a deep clean. Regular mopping only removes the surface soil and not the deeply embedded dirt which results in the grout turning dull. Luckily, Super Clean Pro are well equipped to restore your floors with a superior clean.       
Cleaning grout and tiles is not an easy job; and if you have tried it before, then you know that typical mopping can only get you so far. Grout is in itself a porous substance which gathers dirt and other materials, subsequently discoloring the floor surface.       
No more back breaking tile and grout cleaning with a scrub brush and detergent, Super-Clean PRO uses state of the art equipment in Ringwood to bring the original shine back to your tile and grout. The deep powerful grout cleaning process extracts dirt and grime from surfaces leaving your floors looking clean and great.
Choosing our professional services ensures:      
Your tiles remain intact and are not damaged during cleaning
Your children and pet are kept safe with use of safe and eco-friendly products
The life for your tiles and grout is extended
Super-Clean PRO have the expertise to effectively reestablish the luster on any floor, giving them have a brand-new appeal once more. When it comes to floor cleaning, we are trained, experienced and equipped to perform it both efficiently and safely. We approach each project as an exclusive advertisement for our fantastic quality of work and customer service.
We understand that your Ringwood home is a prized investment, and because of this, we are certified to satisfy all your project needs effectively. We pride ourselves in not only being a trustworthy company but for also offering the most thorough cleaning services.
Many of our clients who have placed their homes on the market have found professional carpet, upholstery or tile and grout cleaning has added enormous value to their home.
Being a local family venture, we make it our mission to leave a mark of accomplishment and integrity in all the projects we work on. For us, our customers are not just another invoice, something we ensure courtesy of our quality workmanship and customer service. When you hire our services, you are choosing a certified and highly trained grout and tile cleaning specialists, bringing forth an abundance of expertise and experience.
Utilizing modern machinery, accompanied by the distinct top of the line cleaning solutions which are both pet and child-friendly, we deliver a remarkably quality clean on our first job, every time. What's more, we also strive to offer pocket-friendly prices. By picking us, you are choosing high quality and durable cleaning, quality customer service, as well as unique workmanship; none of our competitors can match!        
The Grout and Tile Cleaning Process:
Tile and grout cleaning involves using state of the art equipment with vacuum and high-pressure combination to extract the dirt embedded deep within the grout pores.
Pre Clean Walk-Through:
The first phase of our cleaning process is to identify what type of tile needs to be cleaned initially. What makes the process of tile identification so important is because the methods of cleaning ultimately depend on the type of tile. For instance, the process used to clean travertine tile is different from that of ceramic tile.  As tile and grout experts, we can safely and effectively identify and subsequently appropriately treat your floors.      
Treatment Evaluation:
Once we have identified the type of grout and tile you have, our experts then evaluate the treatment required to offer the best cleaning outcome possible. During this process of treatment evaluation, the experts will also check out for any damaged grout or tiles. They can then recommend other optional treatments which may aid in boosting the life of your floors.
Pre-Treatment And Pre-Spotting:
To start the process of cleaning, our team of Ringwood based professionals pre-treats your floors that are to be cleaned using the appropriate cleaning agents recommended for the particular grout and tiles. The unique pre-treatment agents which we lay on your floors will start breaking down the grease and oils in your floors, not to mention prepping the floor for extraction and cleaning.       
Agitation Process:
Our experts are well trained in the appropriate cleaning standards that include a pre-agitation of the required areas prior to the steam cleaning process. Whether your tiles are made of natural stone or ceramic, the agitation process is vital to loosen the embedded soils. This prepares your floors for the distinct steam cleaning extraction.       
Steam Cleaning:
The most potent and most effective approach to cleaning and extracting the soil in your flooring is high-pressure, high-heat steam cleaning. At Super-Clean PRO, our cleaning process is not only able to enhance the feel and appeal of your home, but it also effectively kills bacteria, establishing a healthier living setting in the process.
Final Rinse
In the course of the steam cleaning process, the last step is the final rinse extraction which neutralizes and consequently rinses the floor to ensure that no residue remains behind. By utilizing a rinsing agent for cleansing of the tiles and grout, is a vital step which will aid your floors to stay cleaner, and for a longer duration.
Stain Guard and Sealer
Dreaming of non-stick floors? After the grout and tile are cleaned, you can effectively protect the tiles and grout by sealing them. Typically, sealing the grout safeguards and leaves your floor looking fantastic. Our revolutionary tile sealant successfully penetrates your grout surface, subsequently establishing a protecting barrier against stains and spills, while also ensuring that all other potential cleans are easier to perform while also attaining the best results possible. What's more, our sealant product aids the cleaned grout for a relatively long time and ensures your typical home maintenance routines are more efficient.
We are your number one choice if you are searching for professional standard, high quality cleaning services in Ringwood. At Super-Clean PRO, we are committed to offering an exceptional quality grout and tile cleaning service. We have the best technology and cleaning expertise to refine your otherwise aging tile surfaces, remarkably transforming their appeal. Give us a call today on 0402-814-719 to schedule an appointment or get a free estimation on the spot!